Internet Download Manager v6.06. Fixed compatibility problems with different browsers including Internet Explorer 9 Final, Mozilla Firefox 4 and Mozilla Firefox 5, Google Chrome. Improved FLV grabber to save videos from web players on YouTube,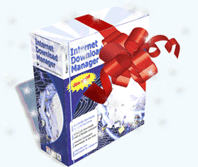 Google Video, MySpace TV, and other popular sites
What's new in version 6.06 build 8?
Added support for Firefox 5
Resolved problems with foreign versions of Windows when a username contains hieroglyphs or other Unicode characters
Advanced browser integration has been significantly amended. Improved automatic interception of downloads, enhanced video stream detection in Chrome, Opera and in other browsers which are integrated with network driver